Mug Unikko Red 2,5 dl (winter 2019)
There is the 'original' Unikko mug in white, bright red and indigo blue. This winter 2019 Unikko mug in red has a deeper color red and is only in white and red, so nu blue and two-tones.

Unikko is the most famous design of the Finnish brand Marimekko.
It's made of earthenware and can contain 2,5 deciliters. The ear on the mug is subtle and easy to hold.
Earthenware mug
Made in Thailand
Base: white
Unikko-design in white with deep red
Height: 9,5 cm
Diameter: 8 cm
Designer of the pattern: Maija Isola
Brand: Marimekko
Oven, micowave, freezer and dishwasher proof
Also available in classic red and black edition, yellow and blue
And available in dark green, white and pink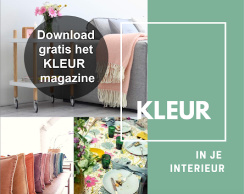 Bij Kleuroptafel winkel je:
online, maar wél persoonlijk
altijd wat 'anders dan anders'
exclusieve merken en producten
opvallende ontwerpen
alles uit voorraad
cadeautjes, zelfs voor jezelf
bij een kleine zelfstandige, die blij is met elke aankoop die je hier doet!
Shipping
NL: €4,95 (gratis bij bestelling boven €75,-)
BE: €7,50
DE: €9,-
UK: €15,-
Vaak dezelfde dag verzonden.
Heeft het haast? Stuur even een extra mailtje aan: info@kleuroptafel.nl

Bij Kleuroptafel vind je leuke, mooie, unieke en kleurrijke spullen om je tafel mee te dekken. Van serviezen tot servetten en van bekers tot bestek in meer dan 22 kleuren! Het assortiment is door mij persoonlijk en met zorg geselecteerd. 'Anders dan anders' en vaak opvallend van kleur of ontwerp. Alles is op voorraad en iedere bestelling pak ik met zorg en plezier voor je in. Koop je iets bij Kleuroptafel, dan koop je bij een zelfstandige die blij is met elke aankoop die je doet – hoe groot of klein dan ook.
Je bent van harte welkom in Rotterdam om je bestelling af te komen halen of iets voor aanschaf te komen bekijken, mail me even.
Fijne dag! Titia Olieman
Offers
Design Letters wooden lid orange for bone china mug
€ 8,00
€ 6,00