Onni Tablecloth with acrylic coating (per 50 cm)
Onni means happiness. And happy it is, this tablecloth!
The design is originally from 1975 and is re-issued by Marimekko. Japanes designer Fujiwo Ishimoto was very much inspired by folcoristic patterns. You can tell by the green oak leaves, flamboyant pink, blue and red flowers and a few hidden hearts.
The acrylic coating allows you to wipe almost every stain (kurkuma leaves bad stains, so please be aware while eating curries) from the fabric. Just use a damp cloth and maybe some normal detergent. Perfect for a life with kids and others who tend to spill food and drinks ;-)
Tablecloth from the roll
Cotton with an acrylic coating
1.45 large
Please be aware of the fact that the Marimekko fabrics all have a rim with the name of the designer, the pattern and the year of design.
Design: Onni
Designer: Fujiwo Ishimoto
Printed in Finland
Colors: white base with green oak leaves, pink, blue and red flowers, hearts, dots and arrows.

The cloth is sold per units of 50 centimeters. SO if you need 2,5 meters of fabric, you order 5 units.
Also available with the Onni design: a roud serving tray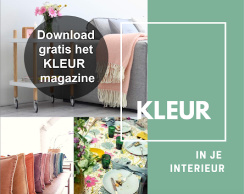 Bij Kleuroptafel winkel je:
online, maar wél persoonlijk
altijd wat 'anders dan anders'
exclusieve merken en producten
opvallende ontwerpen
alles uit voorraad
cadeautjes, zelfs voor jezelf
bij een kleine zelfstandige, die blij is met elke aankoop die je hier doet!
Shipping
NL: €4,95 (gratis bij bestelling boven €75,-)
BE: €7,50
DE: €9,-
UK: €15,-
Vaak dezelfde dag verzonden.
Heeft het haast? Stuur even een extra mailtje aan: info@kleuroptafel.nl

Bij Kleuroptafel vind je leuke, mooie, unieke en kleurrijke spullen om je tafel mee te dekken. Van serviezen tot servetten en van bekers tot bestek in meer dan 22 kleuren! Het assortiment is door mij persoonlijk en met zorg geselecteerd. 'Anders dan anders' en vaak opvallend van kleur of ontwerp. Alles is op voorraad en iedere bestelling pak ik met zorg en plezier voor je in. Koop je iets bij Kleuroptafel, dan koop je bij een zelfstandige die blij is met elke aankoop die je doet – hoe groot of klein dan ook.
Je bent van harte welkom in Rotterdam om je bestelling af te komen halen of iets voor aanschaf te komen bekijken, mail me even.
Fijne dag! Titia Olieman
Offers
Cover for melamine cup Design Letters
€ 9,00
€ 6,00