-50%
RosenbergCPH tea cosy Dale Terracotta
Anne Rosenberg, the designer and owner of RosenbergCPH lifts tea cosies to a higher level! No frills, flowers and English cottages and cats anymore, only clean lines and beautiful graphic prints.
Dale Terracotta has a pattern of white diamond-shaped lines on terracotta.
The tea cosies are 33 x 29 cm, it easily fits a `normal` teapot with a capacity of 1.5 liters or less.
Made from 100% organic cotton
Wash inside out at 60 degrees and do not tumble dry
Printed in Denmark, made in the EU
About RosenbergCPH

The brand from designer Anne Rosenberg, based in Copenhagen (hence the CPH at the end). Rosenberg designs patterns for wool plaidsand printed textiles. The fabric is used for the production of bags, pencil cases, purses, tablecloth and tea cosies
It's Anne Rosenberg's ambition to make products in which beauty, quality and respect for the environment come together.

Quality and respect for the environment:
All textiles are printed in Denmark.
All cotton items are printed on 100% biological cotton
Tabelcloths are sewn in sheltered workshops in Denmark.
Tea and coffee cosies are produced in the EU.
Oilcloth is PVC and phthalates free.
Bij Kleuroptafel winkel je:
altijd wat 'anders dan anders'
exclusieve merken en producten
opvallende ontwerpen
alles uit voorraad
cadeautjes, zelfs voor jezelf
bij een kleine zelfstandige, die blij is met elke aankoop die je hier doet!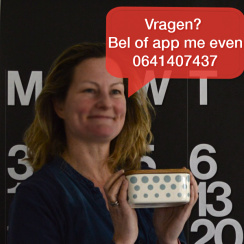 Shipping
NL: €4,95 (gratis bij bestelling boven €75,-)
BE: €7,50
DE: €9,-
UK: €15,-
Vaak dezelfde dag verzonden.
Heeft het haast? Stuur even een extra mailtje aan: info@kleuroptafel.nl

Bij Kleuroptafel vind je leuke, mooie, unieke en kleurrijke spullen om je tafel mee te dekken. Van serviezen tot servetten en van bekers tot bestek in meer dan 20 kleuren! Het assortiment is door mij persoonlijk en met zorg geselecteerd. 'Anders dan anders' en vaak opvallend van kleur of ontwerp. Alles is op voorraad en iedere bestelling pak ik met zorg en plezier voor je in. Koop je iets bij Kleuroptafel, dan koop je bij een zelfstandige die blij is met elke aankoop die je doet – hoe groot of klein dan ook.
Je bent van harte welkom in Rotterdam om je bestelling af te komen halen of iets voor aanschaf te komen bekijken, mail me even.
Fijne dag! Titia Olieman