-15%
Design Letters bone china mug
Design Letters: Have a nice style!
Choose your own letter, write your name, a message, let your imagination run wild with this ultra stylish bone china mugs. The black letters on the white background make a direct and clear statement: ( You) have a nice style
The letters were designed in the 1930's by Arne Jacobsen.

Design Letters is allowed to use this typography. They are slowly but steadily building a very nice collection of high-quality home deco articles.
Tip: transform your mug into a jar by adding a wooden lid in black, turquoise, orange or yellow. 
Content: 300 ml
Height: 8.5 cm
Diameter : 8 cm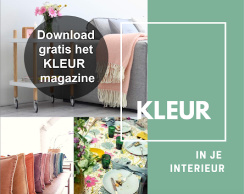 Bij Kleuroptafel winkel je:
online, maar wél persoonlijk
altijd wat 'anders dan anders'
exclusieve merken en producten
opvallende ontwerpen
alles uit voorraad
cadeautjes, zelfs voor jezelf
bij een kleine zelfstandige, die blij is met elke aankoop die je hier doet!
Shipping
NL: €4,95 (gratis bij bestelling boven €75,-)
BE: €7,50
DE: €9,-
UK: €15,-
Vaak dezelfde dag verzonden.
Heeft het haast? Stuur even een extra mailtje aan: info@kleuroptafel.nl

Bij Kleuroptafel vind je leuke, mooie, unieke en kleurrijke spullen om je tafel mee te dekken. Van serviezen tot servetten en van bekers tot bestek in meer dan 22 kleuren! Het assortiment is door mij persoonlijk en met zorg geselecteerd. 'Anders dan anders' en vaak opvallend van kleur of ontwerp. Alles is op voorraad en iedere bestelling pak ik met zorg en plezier voor je in. Koop je iets bij Kleuroptafel, dan koop je bij een zelfstandige die blij is met elke aankoop die je doet – hoe groot of klein dan ook.
Je bent van harte welkom in Rotterdam om je bestelling af te komen halen of iets voor aanschaf te komen bekijken, mail me even.
Fijne dag! Titia Olieman
Offers
Design Letters melamine cup
€ 10,00
€ 7,50