Kleuroptafel is a one woman show of colorful tableware and additional nice stuff I curate for people who love good design and uncommon objects that aren't found on any corner of the street.
In fact, Kleuroptafel is the perfect way of being able to surround me with everything I would like to have myself. The husband though said that we have enough tablecloths, plates, mugs, cups, butterboxes and pitchers dinnerware in our house - and in fact I have to agree with him. Kleuroptafel gives me the opportunity to enjoy these beautiflul things and own them for a short period of time.
Next to my freelance work as a content creator and my family I run my (online) shop from my home in Rotterdam. I visit the international fairs to find and buy new stuff, I take care of marketing, communications and PR. And I pick and giftwrap your orders.
This means that what ever you buy from Kleuroptafel, I'm proud and happy that you decided to it here.
If you happen to know a brand that might be interesting for Kleuroptafel, please don't hesitate to let me know!
I hope you enjoy your stay here!
Bye bye, Titia Olieman
If you want to be updated on what's going on at Kleuropatfel, maybe you could also pay a visit to my Instagram account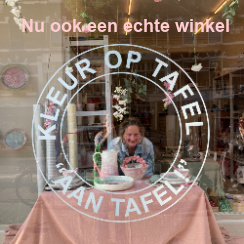 Kleuroptafel De Winkel
Nieuwe Binnenweg 255A
3021GD Rotterdam
Open van wo - vr van 11 tot 18 uur
Zaterdag van 11 tot 17 uur
Hemelvaartweekend gesloten

Voor route en parkeren kijk hier
Verzendkosten
NL €5,95 (gratis bij bestelling boven €100,-)
BE €7,95 (gratis bij bestelling boven €100,-)

Binnen 48 uur verzonden
Heeft het haast? Stuur even een extra mailtje aan: info@kleuroptafel.nl

Afhalen? Nieuwe Binnenweg 255a Rotterdam
Openingstijden zie hierboven

Kleuroptafel:
online, maar wél persoonlijk
nu zelfs ook een echte winkel!
altijd wat 'anders dan anders'
exclusieve merken en producten
opvallende ontwerpen
alles uit voorraad
cadeautjes, zelfs voor jezelf
persoonlijk advies via mail, app of telefoon
een kleine zelfstandige, die blij is met elke aankoop die je hier doet!
Bij Kleuroptafel vind je leuke, mooie, unieke en kleurrijke spullen om je tafel mee te dekken. Van serviezen tot servetten en van bekers tot bestek in meer dan 22 kleuren! Het assortiment is door mij persoonlijk en met zorg geselecteerd. 'Anders dan anders' en vaak opvallend van kleur of ontwerp. Alles is op voorraad en iedere bestelling pak ik met zorg en plezier voor je in. Koop je iets bij Kleuroptafel, dan koop je bij een zelfstandige die blij is met elke aankoop die je doet – hoe groot of klein dan ook.
Fijne dag! Titia Olieman