Marimekko Oiva Ketunmarja set of two mugs without ears, 2 dl with fox, bird and berries
Note: delayed, but can already be ordered!
The oiva Ketunmarja tableware should have arrived in week 36, unfortunately it has been delayed and is now expected to be here week 42. So a little patience please. But, you can already order it. Last year's experience shows that this series is going very fast.
Oh, these sets of two earless mugs are so much fun! Perfect for your lungo, some nuts, candies or how about a cold soup as a starter.

Ketunmarja is the story of a fox, a bird and delicious red berries. How do you think this ends? You can philosophize about it over a cup of coffee.
Finally, the explanation of the word Oiva... This means excellent in Finnish. It is the perfect word for Marimekko's tableware, designed by Sami Ruotsalainen. Simple in shape and that's exactly why it's perfect. Ruotsalainen did not want to limit himself to one colour. The basis of the Oiva tableware therefore always remains the same, only new items are released every season that therefore stack perfectly and go together with the rest. For example, choose a white base and complete with your favorite color. Or with your favorite animal ;-)
Brand: Marimekko
Product: set of two mugs without ears
Content: 2 dl
Height: 7
Diameter: 7.5
Part of the Oiva tableware
Made of stoneware, a sturdier material than pottery
Pattern: Ketunmarja
Color: white, beige, fox brown, red, black
Design: Aino-Maija Metsola
Note: temporary collection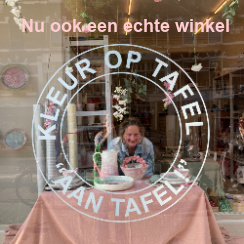 Kleuroptafel De Winkel
Nieuwe Binnenweg 255A
3021GD Rotterdam
Open van wo - vr van 11 tot 18 uur
Zaterdag van 11 tot 17 uur
Hemelvaartweekend gesloten

Voor route en parkeren kijk hier
Verzendkosten
NL €5,95 (gratis bij bestelling boven €100,-)
BE €7,95 (gratis bij bestelling boven €100,-)

Binnen 48 uur verzonden
Heeft het haast? Stuur even een extra mailtje aan: info@kleuroptafel.nl

Afhalen? Nieuwe Binnenweg 255a Rotterdam
Openingstijden zie hierboven

Kleuroptafel:
online, maar wél persoonlijk
nu zelfs ook een echte winkel!
altijd wat 'anders dan anders'
exclusieve merken en producten
opvallende ontwerpen
alles uit voorraad
cadeautjes, zelfs voor jezelf
persoonlijk advies via mail, app of telefoon
een kleine zelfstandige, die blij is met elke aankoop die je hier doet!
Bij Kleuroptafel vind je leuke, mooie, unieke en kleurrijke spullen om je tafel mee te dekken. Van serviezen tot servetten en van bekers tot bestek in meer dan 22 kleuren! Het assortiment is door mij persoonlijk en met zorg geselecteerd. 'Anders dan anders' en vaak opvallend van kleur of ontwerp. Alles is op voorraad en iedere bestelling pak ik met zorg en plezier voor je in. Koop je iets bij Kleuroptafel, dan koop je bij een zelfstandige die blij is met elke aankoop die je doet – hoe groot of klein dan ook.
Fijne dag! Titia Olieman