Marimekko Ketunmarja storage tin 11 x 11 x 17.5 cm, with foxes, foxberries and birds
Biscuits, granola, nuts, your winter stock of dried beans, sugar, rice or your secret stash of mini Mars bars.
This storage tin is equipped with the temporary Ketunmarja print for autumn 2021. A real collector's item!
Ketunmarja is the Finnish word for foxberry or lingonberry. Now in this design it is not the fox that hunts the berries, but the bird. The fox, in turn, is on the hunt for the bird. Welcome to Finnish nature; eat and be eaten!
The lid is fixed on one side with two hinges.
The can closes well, but note: no airtight closure.
Dimensions: height 17.5 x width 11 x length 11 cm
Material: sheet metal
Colors: beige background, fox brown, black, dark green, red and white
Marimekko product number: 071116
Food safe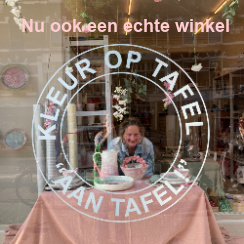 Kleuroptafel De Winkel
Nieuwe Binnenweg 255A
3021GD Rotterdam
Open van wo - vr van 11 tot 18 uur
Zaterdag van 11 tot 17 uur
Hemelvaartweekend gesloten

Voor route en parkeren kijk hier
Verzendkosten
NL €5,95 (gratis bij bestelling boven €100,-)
BE €7,95 (gratis bij bestelling boven €100,-)

Binnen 48 uur verzonden
Heeft het haast? Stuur even een extra mailtje aan: info@kleuroptafel.nl

Afhalen? Nieuwe Binnenweg 255a Rotterdam
Openingstijden zie hierboven

Kleuroptafel:
online, maar wél persoonlijk
nu zelfs ook een echte winkel!
altijd wat 'anders dan anders'
exclusieve merken en producten
opvallende ontwerpen
alles uit voorraad
cadeautjes, zelfs voor jezelf
persoonlijk advies via mail, app of telefoon
een kleine zelfstandige, die blij is met elke aankoop die je hier doet!
Bij Kleuroptafel vind je leuke, mooie, unieke en kleurrijke spullen om je tafel mee te dekken. Van serviezen tot servetten en van bekers tot bestek in meer dan 22 kleuren! Het assortiment is door mij persoonlijk en met zorg geselecteerd. 'Anders dan anders' en vaak opvallend van kleur of ontwerp. Alles is op voorraad en iedere bestelling pak ik met zorg en plezier voor je in. Koop je iets bij Kleuroptafel, dan koop je bij een zelfstandige die blij is met elke aankoop die je doet – hoe groot of klein dan ook.
Fijne dag! Titia Olieman