Marimekko Bowl Unikko Black White 2.5 deciliter
Once someone came to me to buy dishes from completely different table ware. She could choose between large and small bowls. She consciously chose the small size. I asked her why and she told me that otherwise her children would without a problem eat half a liter of custard or ice cream after dinner. By choosing for the smaller bowls, the custard intake was therefore somewhat limited in the future.
Now I have to admit that it works very well for me too; eating from a smaller plate or from a smaller bowl really ensures that you serve less and often eat less.
Sooooo ... in addition to a bowl of 5 deciliters, there is also the smaller size of 2.5 deciliters of the new black and white Oiva Unikko service.
Bowl: 2.5 dl
Decorated with the Unikko design in black and white
New in the permanent collection
Height: 5.5 cm
Diameter: 9.5 cm
Designer of the pattern: Maija Isola
Brand: Marimekko
Can be used in the oven, microwave, freezer and dishwasher
Made of stoneware
The white is just not pure white, but just a bit off-white
Marimekko product code: 071066-190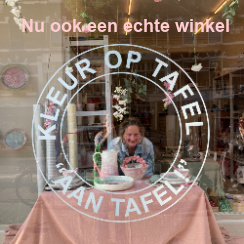 Kleuroptafel De Winkel
Nieuwe Binnenweg 255A
3021GD Rotterdam
Open van wo - vr van 11 tot 18 uur
Zaterdag van 11 tot 17 uur
Hemelvaartweekend gesloten

Voor route en parkeren kijk hier
Verzendkosten
NL €5,95 (gratis bij bestelling boven €100,-)
BE €7,95 (gratis bij bestelling boven €100,-)

Binnen 48 uur verzonden
Heeft het haast? Stuur even een extra mailtje aan: info@kleuroptafel.nl

Afhalen? Nieuwe Binnenweg 255a Rotterdam
Openingstijden zie hierboven

Kleuroptafel:
online, maar wél persoonlijk
nu zelfs ook een echte winkel!
altijd wat 'anders dan anders'
exclusieve merken en producten
opvallende ontwerpen
alles uit voorraad
cadeautjes, zelfs voor jezelf
persoonlijk advies via mail, app of telefoon
een kleine zelfstandige, die blij is met elke aankoop die je hier doet!
Bij Kleuroptafel vind je leuke, mooie, unieke en kleurrijke spullen om je tafel mee te dekken. Van serviezen tot servetten en van bekers tot bestek in meer dan 22 kleuren! Het assortiment is door mij persoonlijk en met zorg geselecteerd. 'Anders dan anders' en vaak opvallend van kleur of ontwerp. Alles is op voorraad en iedere bestelling pak ik met zorg en plezier voor je in. Koop je iets bij Kleuroptafel, dan koop je bij een zelfstandige die blij is met elke aankoop die je doet – hoe groot of klein dan ook.
Fijne dag! Titia Olieman