Marimekko Oiva Terra soup plate 20,5 cm
The Terra line of the Oiva service ware has been expanded with a very beautiful soup plate.
With this Terra dinner ware range, the stoneware is partly untreated, so not glazed.
This is to emphasize the character of the material. The tableware is therefore partly fine and smooth, with the glaze layer that comes into contact with the food and drink. And partly a little rough. In the case of this deep plate, it's the outside.

Oiva is the basic service ware line from Marimekko. Because the shape remains the same and the designs change seasonally, everything fits together very well. It is up to the Marimekko fan to combine to their heart's content.
Please note that due to the untreated brown stoneware, color and tone may vary per product. This is precisely the intention of the producer.
Product: Oiva Terra soup plate
Color: brown stoneware, glazed inside, rough outside.
Dimensions: 20.5 cm diameter, 3.5 cm high
Made in: Thailand
Last items, I won't re-order this Terra line again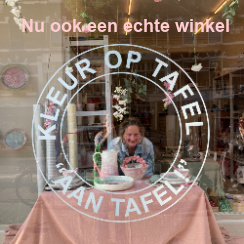 Kleuroptafel De Winkel
Nieuwe Binnenweg 255A
3021GD Rotterdam
Open van wo - vr van 11 tot 18 uur
Zaterdag van 11 tot 17 uur

Voor route en parkeren kijk hier
Verzendkosten
NL €4,95 (gratis bij bestelling boven €100,-)
BE €7,95 (gratis bij bestelling boven €100,-)

Let op!
Tussen 22/7 en 15/8 worden bestellingen alleen op donderdag en zaterdag verstuurd.

Binnen 48 uur verzonden
Heeft het haast? Stuur even een extra mailtje aan: info@kleuroptafel.nl

Afhalen? Nieuwe Binnenweg 255a Rotterdam
Openingstijden zie hierboven

Kleuroptafel:
online, maar wél persoonlijk
nu zelfs ook een echte winkel!
altijd wat 'anders dan anders'
exclusieve merken en producten
opvallende ontwerpen
alles uit voorraad
cadeautjes, zelfs voor jezelf
persoonlijk advies via mail, app of telefoon
een kleine zelfstandige, die blij is met elke aankoop die je hier doet!
Bij Kleuroptafel vind je leuke, mooie, unieke en kleurrijke spullen om je tafel mee te dekken. Van serviezen tot servetten en van bekers tot bestek in meer dan 22 kleuren! Het assortiment is door mij persoonlijk en met zorg geselecteerd. 'Anders dan anders' en vaak opvallend van kleur of ontwerp. Alles is op voorraad en iedere bestelling pak ik met zorg en plezier voor je in. Koop je iets bij Kleuroptafel, dan koop je bij een zelfstandige die blij is met elke aankoop die je doet – hoe groot of klein dan ook.
Fijne dag! Titia Olieman