Oiva Siirtolapuutarha Räsymatto plate 20 cm white and pink
Breakfast or salad plate with 20 cm diameter.
For your sandwich, a piece of pizza, a delicious big piece of cake, salad ... or maybe on the wall!
Pink dots on a white background. Räsymatto means rag rug, these rugs can be found in many Scandinavian homes and in the small allotment garden houses.
These allotments (siirtolapuutarha) are 'urban nature at it's best' according to designer Maija Louekari. In any case, they served as a source of inspiration for a still growing series of articles for Marimekko; from fabrics to crockery.

For Louekari, an allotment garden is a beautiful combination of the busy city and the tranquility of greenery and plants.

Oiva is the basic service from Marimekko. It is made of neutral white and made of earthenware. But, designer Sami Ruotsalainen thought only white is not enough. That is why many Oiva parts are also available in other colors and Marimekko designs.

The basis always remains the same, so everything fits together perfectly in terms of shape. It's up to you to mix and combine everything (or a little).
Brand: Marimekko
Product: salad plate or breakfast plate
20 cm diameter
Part of the Oiva service
Made from earthenware
Pattern: Räsymatto
Color: white with pink dots
Design: Maija Louekari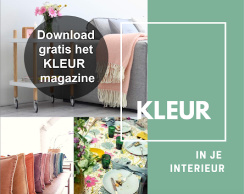 Bij Kleuroptafel winkel je:
online, maar wél persoonlijk
altijd wat 'anders dan anders'
exclusieve merken en producten
opvallende ontwerpen
alles uit voorraad
cadeautjes, zelfs voor jezelf
bij een kleine zelfstandige, die blij is met elke aankoop die je hier doet!
Shipping
NL: €4,95 (gratis bij bestelling boven €75,-)
BE: €7,50
DE: €9,-
UK: €15,-
Vaak dezelfde dag verzonden.
Heeft het haast? Stuur even een extra mailtje aan: info@kleuroptafel.nl

Bij Kleuroptafel vind je leuke, mooie, unieke en kleurrijke spullen om je tafel mee te dekken. Van serviezen tot servetten en van bekers tot bestek in meer dan 22 kleuren! Het assortiment is door mij persoonlijk en met zorg geselecteerd. 'Anders dan anders' en vaak opvallend van kleur of ontwerp. Alles is op voorraad en iedere bestelling pak ik met zorg en plezier voor je in. Koop je iets bij Kleuroptafel, dan koop je bij een zelfstandige die blij is met elke aankoop die je doet – hoe groot of klein dan ook.
Je bent van harte welkom in Rotterdam om je bestelling af te komen halen of iets voor aanschaf te komen bekijken, mail me even.
Fijne dag! Titia Olieman
Offers