Acryl coated tablecloth Siirtolapuutarha green blue (per unit of 50 cm)
Is the yellow, red, bue versiion of Siirtolapuutarha a b it too much for you, then this one in green and blue hues might be the one!
In 2009, Maija Louekari designed the Siirtolapuutarha design for Marimekko. It stands for a city garden, an allotment garden in the middle of the city, and the transition from the hustle and bustle to a lavish and overgrown garden with flowers and vegetables.
These cotton tablecloths are screen-printed in Finland by Marimekko itself. They are then given an acrylic coating treatment. This ensures that you can easily wipe off spilled foods and beverages with a wet cloth. The tablecloth almost never needs to be washed! If you want to wash it, you can do it at 40 degrees. I would hang it wet and possibly iron on the back.
Width: 145 cm

Material: cotton with acrylic coating

Colors: dark green, bright green, turquoise, petrol blue, black and white.

Design design: Maija Louekari

Repeat: 116 cm

Length: choose the number of desired units of 50 centimeters yourself. If you need 2 meters, order 4 units.

Note: just like the tablecloths of the Danish Susanne Schjerning, it says along the edge of the fabric who the designer is, from when the design etc. If you find this ugly, you can always hem it down.

In general, the short sides do not need a hem. Because of the acrylic coating and the way of cutting, there is actually little to no fray on the fabric.

Made in Finland

Brand: Marimekko

Also available in a blue, red, yellow version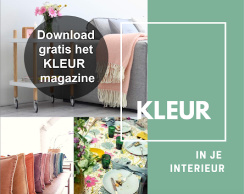 Bij Kleuroptafel winkel je:
online, maar wél persoonlijk
altijd wat 'anders dan anders'
exclusieve merken en producten
opvallende ontwerpen
alles uit voorraad
cadeautjes, zelfs voor jezelf
bij een kleine zelfstandige, die blij is met elke aankoop die je hier doet!
Shipping
NL: €4,95 (gratis bij bestelling boven €75,-)
BE: €7,50
DE: €9,-
UK: €15,-
Vaak dezelfde dag verzonden.
Heeft het haast? Stuur even een extra mailtje aan: info@kleuroptafel.nl

Bij Kleuroptafel vind je leuke, mooie, unieke en kleurrijke spullen om je tafel mee te dekken. Van serviezen tot servetten en van bekers tot bestek in meer dan 22 kleuren! Het assortiment is door mij persoonlijk en met zorg geselecteerd. 'Anders dan anders' en vaak opvallend van kleur of ontwerp. Alles is op voorraad en iedere bestelling pak ik met zorg en plezier voor je in. Koop je iets bij Kleuroptafel, dan koop je bij een zelfstandige die blij is met elke aankoop die je doet – hoe groot of klein dan ook.
Je bent van harte welkom in Rotterdam om je bestelling af te komen halen of iets voor aanschaf te komen bekijken, mail me even.
Fijne dag! Titia Olieman
Offers
Personal notebook Design Letters
€ 16,00
€ 14,00