Plate Oiva round white 20 cm
Either a solid or white tablecloth with statement dinner ware, or vice versa: a busy and colorful tablecloth with a calm and white basic set of plates. The white earthenware Oiva dinner ware range from Marimekko, designed by Sami Ruotsalainen ten years ago, is such a great starting point for endless possiblities to set your table.
The breakfast or salad plate is a solid white plate with a nice rolling edge. Compared to most plates from other dinnerware, it rises quite high above the table. It even seems to float a bit. Look, this is how you literally take your own cooking to a higher level!
Earthenware plate

Salad or breakfast plate

Basic: white

The white is not the white of porcelain, but off-white of earthenware.

Diameter: 20 cm

Brand: Marimekko

Can be used in oven, microwave, freezer and dishwasher

Made in Thailand
Bij Kleuroptafel winkel je:
altijd wat 'anders dan anders'
exclusieve merken en producten
opvallende ontwerpen
alles uit voorraad
cadeautjes, zelfs voor jezelf
bij een kleine zelfstandige, die blij is met elke aankoop die je hier doet!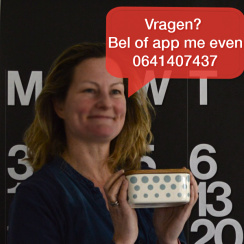 Shipping
NL: €4,95 (gratis bij bestelling boven €75,-)
BE: €7,50
DE: €9,-
UK: €15,-
Vaak dezelfde dag verzonden.
Heeft het haast? Stuur even een extra mailtje aan: info@kleuroptafel.nl

Bij Kleuroptafel vind je leuke, mooie, unieke en kleurrijke spullen om je tafel mee te dekken. Van serviezen tot servetten en van bekers tot bestek in meer dan 20 kleuren! Het assortiment is door mij persoonlijk en met zorg geselecteerd. 'Anders dan anders' en vaak opvallend van kleur of ontwerp. Alles is op voorraad en iedere bestelling pak ik met zorg en plezier voor je in. Koop je iets bij Kleuroptafel, dan koop je bij een zelfstandige die blij is met elke aankoop die je doet – hoe groot of klein dan ook.
Je bent van harte welkom in Rotterdam om je bestelling af te komen halen of iets voor aanschaf te komen bekijken, mail me even.
Fijne dag! Titia Olieman