Rectangular plate Unikko Black 15 x 12 centimeters
A rectangular plate with rounded corners. This may sound strange, but this form is very friendly. The Finns of Marimekko are averse to conventions. That is why they sometimes make square and no round plates and there are no cups and saucers, but they have separate cups and - for example these - plates.
It is the best-known design of the Finnish brand: Unikko. On this rectangular saucer the poppy is depicted in black, the heart is gray (almost purple) with sand color, almost gold it seems.
The plate is large enough for a piece of cake, a piece of toast, a substantial amount of sushi or an appetizer.
Earthenware rectangular plate

Made in Thailand

Basic: white

Decorated with the black Unikko motif in black, white, gray and sand color

Height: 1.7 cm

Length 15.5 cm

Width: 12.5 cm

Name: Unikko plate black 15 x 12

Designer of the pattern: Maija Isola

Brand: Marimekko

Can be used in oven, microwave, freezer and dishwasher
Bij Kleuroptafel winkel je:
altijd wat 'anders dan anders'
exclusieve merken en producten
opvallende ontwerpen
alles uit voorraad
cadeautjes, zelfs voor jezelf
bij een kleine zelfstandige, die blij is met elke aankoop die je hier doet!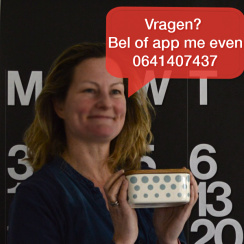 Shipping
NL: €4,95 (gratis bij bestelling boven €75,-)
BE: €7,50
DE: €9,-
UK: €15,-
Vaak dezelfde dag verzonden.
Heeft het haast? Stuur even een extra mailtje aan: info@kleuroptafel.nl

Bij Kleuroptafel vind je leuke, mooie, unieke en kleurrijke spullen om je tafel mee te dekken. Van serviezen tot servetten en van bekers tot bestek in meer dan 20 kleuren! Het assortiment is door mij persoonlijk en met zorg geselecteerd. 'Anders dan anders' en vaak opvallend van kleur of ontwerp. Alles is op voorraad en iedere bestelling pak ik met zorg en plezier voor je in. Koop je iets bij Kleuroptafel, dan koop je bij een zelfstandige die blij is met elke aankoop die je doet – hoe groot of klein dan ook.
Je bent van harte welkom in Rotterdam om je bestelling af te komen halen of iets voor aanschaf te komen bekijken, mail me even.
Fijne dag! Titia Olieman