Soup plate Peacock Symphony
Peacocks in paintings stand for pride. But also for dignity and beauty. On top of this peacocks imply longlastring relationships. Wow, that makes this dinner ware range the best mariage gift ever!
The master painters of Royal Delft (also known as De Koninklijke Porseleyne Fles) managed to create a modern dinner ware range with the traditional values of Delft Blue.
The patterns on the different parts of the dinner ware vary from item to item. Just like the different decoration techniques. They play with white space, watercolor and pen drawings. Resulting in surprising combinations that will be great conversation starters.
On this soup plate a single peacock is sitting on the right rim, surrouded by some elegant flowers.
Article: Soup plate (deep plate)
Dinner ware range: Peacock Symphony
Brand: Royal Delft
Diameter: 24 cm
Dishwasher safe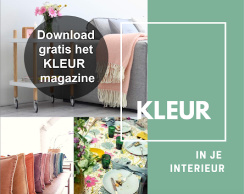 Bij Kleuroptafel winkel je:
online, maar wél persoonlijk
altijd wat 'anders dan anders'
exclusieve merken en producten
opvallende ontwerpen
alles uit voorraad
cadeautjes, zelfs voor jezelf
bij een kleine zelfstandige, die blij is met elke aankoop die je hier doet!
Shipping
NL: €4,95 (gratis bij bestelling boven €75,-)
BE: €7,50
DE: €9,-
UK: €15,-
Vaak dezelfde dag verzonden.
Heeft het haast? Stuur even een extra mailtje aan: info@kleuroptafel.nl

Bij Kleuroptafel vind je leuke, mooie, unieke en kleurrijke spullen om je tafel mee te dekken. Van serviezen tot servetten en van bekers tot bestek in meer dan 22 kleuren! Het assortiment is door mij persoonlijk en met zorg geselecteerd. 'Anders dan anders' en vaak opvallend van kleur of ontwerp. Alles is op voorraad en iedere bestelling pak ik met zorg en plezier voor je in. Koop je iets bij Kleuroptafel, dan koop je bij een zelfstandige die blij is met elke aankoop die je doet – hoe groot of klein dan ook.
Je bent van harte welkom in Rotterdam om je bestelling af te komen halen of iets voor aanschaf te komen bekijken, mail me even.
Fijne dag! Titia Olieman
Offers
Design Letters postcard with envelope
€ 5,00
€ 4,00