Stendig Calendar 2020
Stendig Calendar 2020
PRE-ORDER NOW and get an ealybird discount of €7,50!
Order the Stendig 2020 edition untill september 1st 2019 and you get a discount of €7,50. The only thing you have to do is fill in this code during check out: stistastendig
Nice huh?!
Won't be shipping the calendar until september / october though. Don't know exactly when it'll be in stock.
Design icon
The Stendig Calendar is a design icon that's been there since 1966. Massimo Vignelli, who also designed the New York metro map, designed it. Helvetica was a new typo back then and he experimented with it on this huge calendar he designed for the Stendig Company.
Black and white, white and black and back
Each month it shifts color, from black background with white letters to white background with black numbers and letters. It has a black top-rim with 3 metal eyes to pin it to the wall.The calendar is huge with it's 91,5 x 122 centimeter! The sheets are re-usable after (simply) tearing them after each month. Use them as a gift wrap or as a huge drawing-sheet.
Size: 91,5 x 122 cm
Shipped in a cardboard box, always gift wrapped and enough bubble wrap so it will reach you in perfect state.
If you need any help ordening, please let me know, just send me an email: info@kleuroptafel.nl Also if you're unable to find your country in one of the next steps ordering the Calendar.
Need some inspiration? Check out Kleuroptafel's Stendig Pinterest-board.
Additional fee for large size transport is included in the price. Is your country not yet listed, please contact me and I'll add it to the shipping possiblities. We ship worldwide!
Bij Kleuroptafel winkel je:
altijd wat 'anders dan anders'
exclusieve merken en producten
opvallende ontwerpen
alles uit voorraad
cadeautjes, zelfs voor jezelf
bij een kleine zelfstandige, die blij is met elke aankoop die je hier doet!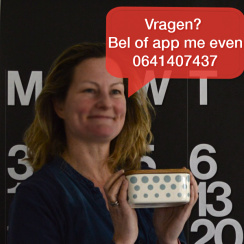 Shipping
NL: €4,95 (gratis bij bestelling boven €75,-)
BE: €7,50
DE: €9,-
UK: €15,-
Vaak dezelfde dag verzonden.
Heeft het haast? Stuur even een extra mailtje aan: info@kleuroptafel.nl

Bij Kleuroptafel vind je leuke, mooie, unieke en kleurrijke spullen om je tafel mee te dekken. Van serviezen tot servetten en van bekers tot bestek in meer dan 20 kleuren! Het assortiment is door mij persoonlijk en met zorg geselecteerd. 'Anders dan anders' en vaak opvallend van kleur of ontwerp. Alles is op voorraad en iedere bestelling pak ik met zorg en plezier voor je in. Koop je iets bij Kleuroptafel, dan koop je bij een zelfstandige die blij is met elke aankoop die je doet – hoe groot of klein dan ook.
Je bent van harte welkom in Rotterdam om je bestelling af te komen halen of iets voor aanschaf te komen bekijken, mail me even.
Fijne dag! Titia Olieman