-46%
Frostray, re-usable paper origami plates, type A
The Frostray is a reusable origami plate. That sounds pretty impossible, but it is not! The Frostray, designed by Japanese designer duo Drill Design, is made of special paper that looks like very thin frosted glass. The square sheets have small folding lines. When you fold these perforations tightly, you create a mini platter or plate. The water-repellent material can be washed and can be used several times.
A nice way to present petit fours or cupcakes. Or a nice decorative element to put on your desk, on a table or anywhere at home or office.
The Frostray is packed per 6 pieces. In each pack there are two versions in shades of pink, yellow and gray.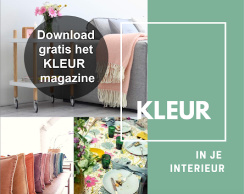 Bij Kleuroptafel winkel je:
online, maar wél persoonlijk
altijd wat 'anders dan anders'
exclusieve merken en producten
opvallende ontwerpen
alles uit voorraad
cadeautjes, zelfs voor jezelf
bij een kleine zelfstandige, die blij is met elke aankoop die je hier doet!
Shipping
NL: €4,95 (gratis bij bestelling boven €75,-)
BE: €7,50
DE: €9,-
UK: €15,-
Vaak dezelfde dag verzonden.
Heeft het haast? Stuur even een extra mailtje aan: info@kleuroptafel.nl

Bij Kleuroptafel vind je leuke, mooie, unieke en kleurrijke spullen om je tafel mee te dekken. Van serviezen tot servetten en van bekers tot bestek in meer dan 22 kleuren! Het assortiment is door mij persoonlijk en met zorg geselecteerd. 'Anders dan anders' en vaak opvallend van kleur of ontwerp. Alles is op voorraad en iedere bestelling pak ik met zorg en plezier voor je in. Koop je iets bij Kleuroptafel, dan koop je bij een zelfstandige die blij is met elke aankoop die je doet – hoe groot of klein dan ook.
Je bent van harte welkom in Rotterdam om je bestelling af te komen halen of iets voor aanschaf te komen bekijken, mail me even.
Fijne dag! Titia Olieman
Offers
Personal notebook Design Letters
€ 16,00
€ 14,00